There's no doubt that awareness of mental health conditions is growing in general society. Slowly but surely, this is extending into the workplace too, with reports that 1 in 100 adults around the country have now received some form of mental health awareness training. Yet the picture is not the same across the country, and many people still struggle to get the help they need.
To get a better picture of how seriously employers take mental health in 2021, we decided to put out a detailed survey, and have gotten 22 responses. While not enough to draw a statistical judgement, many of them gave extensive answers about their experiences in a variety of industries. The feedback we received shows that we're on the right track – but more mental health first aid training is needed to change the culture around mental health, and empower people to be honest with their employers.
Demographics
The participants in our study were mostly male (82% vs 18%) and trended young, as shown in the graph below. This perhaps reflects the fact that the study was largely promoted through social media! This could be interesting however, as younger people are generally perceived to be more conscious of mental health and its impact at work.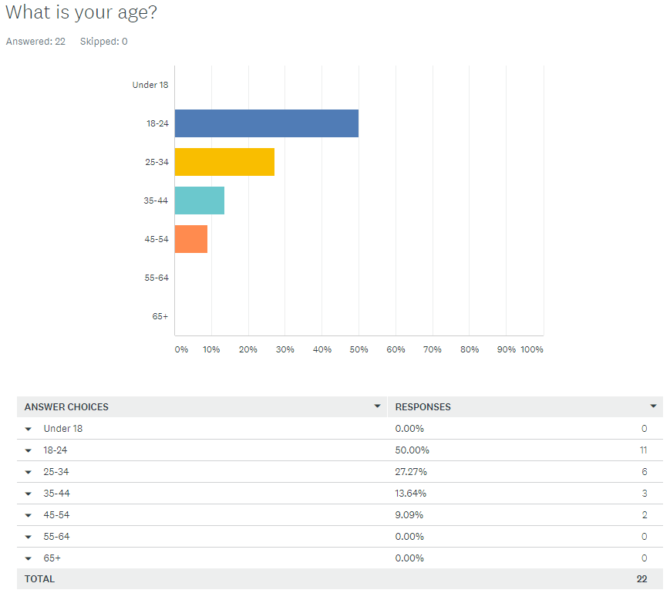 Despite the relative homogeneity, our 22 respondents came from a wide array of professions. These included:
Unemployed

Hospitality

Construction

Bartending

Carpentry

Ventilation

Arboriculture

IT & Telecoms

Leisure

Teaching

Sales & Marketing

Healthcare

Retail
This provides us with a fairly representative sample of how people feel about mental health across industries. As much of our training at SAMS is around construction safety, this is a helpful cross-section to look at how mental health awareness can be improved across a range of workplaces, and the role First Aid for Mental Health training can play in that.
Action on mental health
It is widely accepted that up to a quarter of people may be suffering from a mental health condition at any time, ranging from mild anxiety or depression to the most serious mental illnesses. 
To get a better sense of the issues that affected our survey participants, we asked several questions around how work affects their mental health, and whether they feel empowered to take certain actions on the behalf of themselves or their colleagues.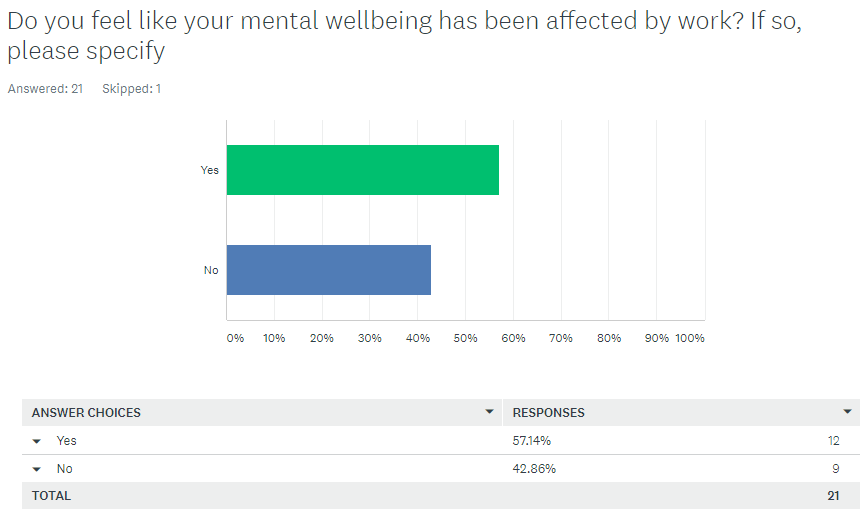 Over half of our respondents felt their mental health had been impacted by work. While this does not mean that they were all currently experiencing a mental health condition, it does highlight the role work plays in our mental health, and the fact that there is substantial work to be done on identifying stressors and improving the health of employees.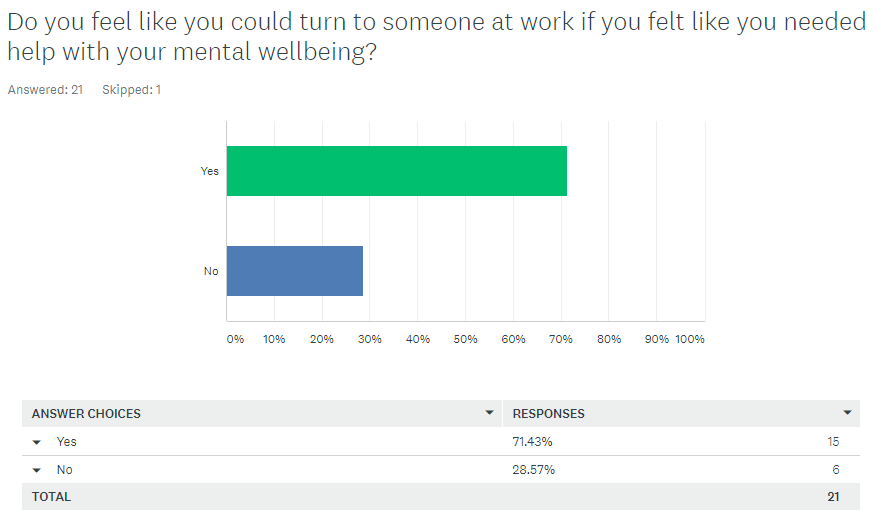 Around two thirds of participants stated that they would have someone to turn to at work regarding their mental health, which is encouraging, particularly given the percentage of male respondents. This perhaps owes something to the range of industries – statistics indicate that many fewer people would feel comfortable opening up in careers such as construction.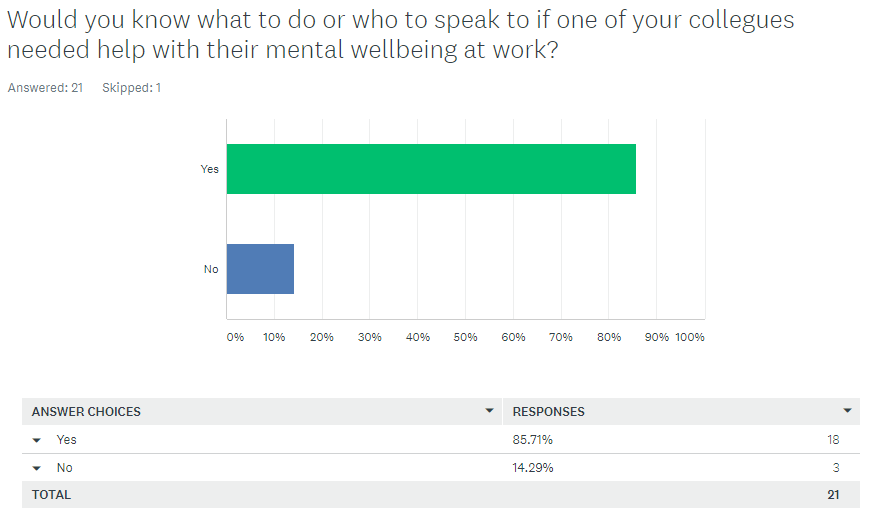 An even greater percentage of respondents were confident that they knew what to do in the event that a colleague needed help with their mental health at work. Again, this is highly encouraging, and reflects changing attitudes around mental health generally. 
It is interesting however – if not surprising – that people are more comfortable helping someone else than speaking out about their own mental health issues.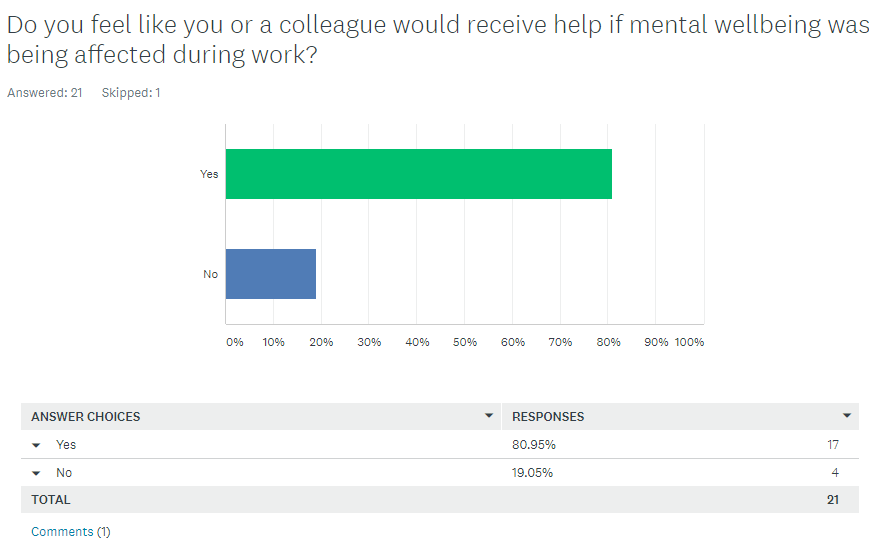 Again, it's reassuring to see that a large majority of people are confident they would receive help with their mental wellbeing at work. However, the fact that this isn't 100% clearly demonstrates there is still work to be done, both active and preventative.
Mental health culture in the workplace
The bulk of our questions pertained to the ways in which employers recognise and address mental health issues in the workplace. This can be separated into two broad categories: the general culture around mental health at work; and what actions the participant would feel empowered to take as a result of that culture.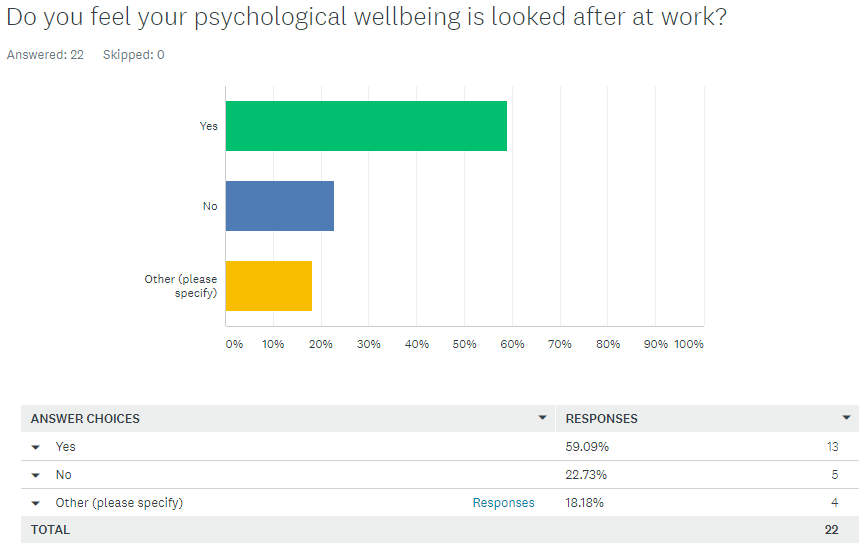 A narrow majority of respondents felt that their psychological wellbeing is looked after at work. Other than the one respondent who is unemployed, however, the rest all had a wholly or somewhat negative perception of how their workplace accommodates their mental health. Here are the responses for 'other':
"Yes but I feel there is a negativity to it"

"Self driven rather than supported by a company. Its an expectation of the role."

" It depends, sometimes you can get the support but because of how demanding the job is mentally and physically you kind of just have to plod on and be the hero when someone is poorly, dying in front of you etc so can feel very overwhelming and its just seen as 'part of the job'"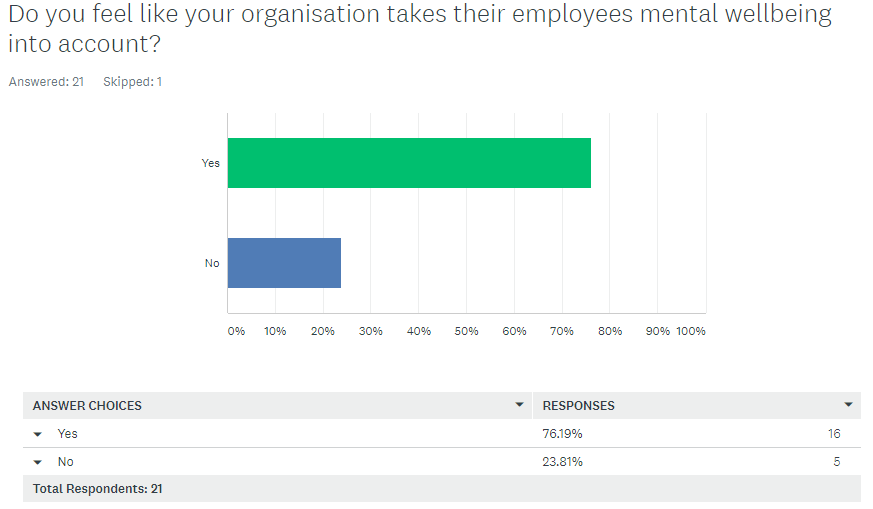 A higher proportion of people felt that their organisation does consider mental health, but just does not do enough to look after their mental health at work. This perhaps reflects how some companies pay 'lip service' to mental health without making substantive changes to their culture and working practices, which are needed to drive change.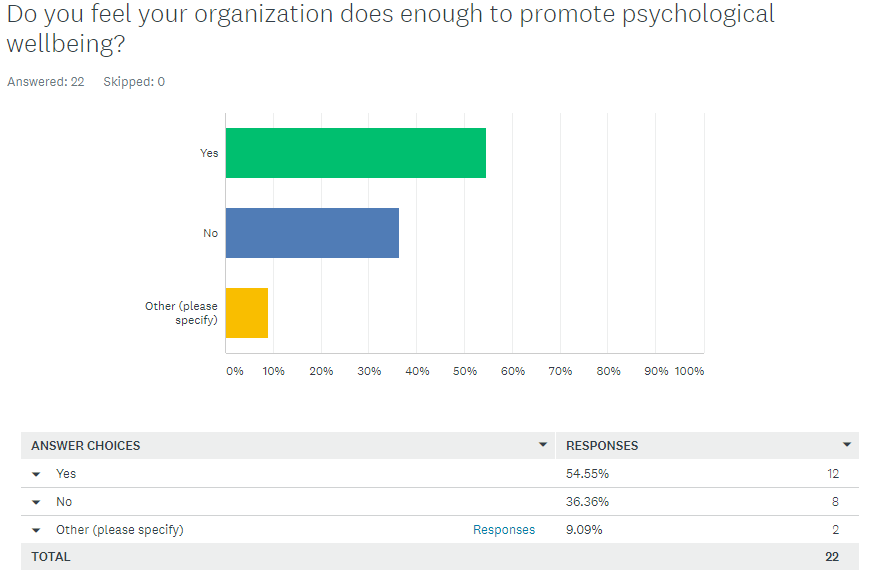 Our next question was about how effectively employers acknowledge and promote mental wellbeing. Again, just under half felt that their employers' recognition and promotion of mental wellbeing was not sufficient, a similar number to how many people felt that work had affected their mental health. One respondent did feel that happiness was prioritised in their workplace, but that this didn't specify mental health – a possible blind spot for some firms.
Mental health in society
The remaining questions centred on the participants' wider awareness of mental health in society. One driver for this survey was the shocking statistics around mental health on construction sites. These male-dominated areas can lead to people bottling up their emotions, and being afraid to speak out in case they aren't taken seriously.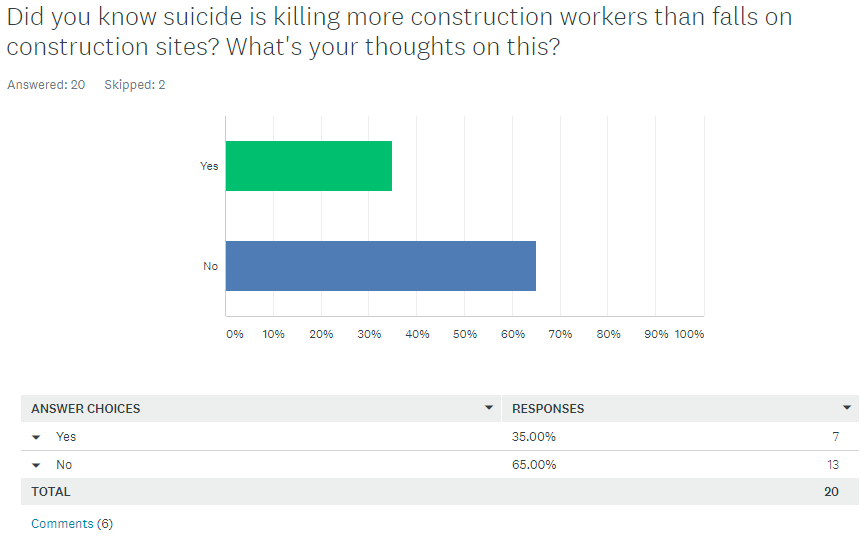 While some people were aware of the mental health issue in construction, a substantial majority was not. A number of the responses mentioned being unsurprised, and pointed to a culture of 'toxic masculinity', while others felt that they would be more comfortable as a young worker than an older one.

Finally, we asked participants for general feedback and suggestions about what employers could do differently. Several respondents mentioned meetings and talks with staff, while there were also other suggestions. Responses included:
"Aim to recognise changes in behaviour or negative body language. Always double check on employees to ensure they're in a good headspace." 

" Have more access to trained professionals in mental health treatment available" 

"Regular talks with the staff"

"There should be more awareness raised about it, and who to contact"

"Have weekly meetings as an option to discuss issues. More colleagues hired that specialises in mental health"

"Ask my employees if they are doing okay, see how we can help make the workplace more enjoyable for everyone. So coming to do a job for me it can be a good experience every time."

" Follow Sweden's mentality of work place values, short work days, and metal well-being time off (they can request time off due to mental health, less stigmatised in that country) 

" Listen observe and reflect. When they are talking to you listen actively – you don't need to solve your staffs issues but by being open and employing services that your staff can access without fear or worry about cost to business.





Train all staff members in mental health awareness and walk the walk. Don't see it as a tick box exercise. Everyone has mental health – own it and normalise it. Be prepared with a decent referral kit when needed and make sure your staff know the value you place on mental health."
Conclusion
Given the age group of our survey participants and the responses, it's clear that there is a demographic difference in how people treat and respond to mental health issues. Awareness is higher among younger people, and the wider focus on mental health is filtering through society. This will inevitably cause changes in companies, in order to keep with the times and attract younger workers.
However, it's important not to assume this battle will win itself as more people open up about their mental health. Business leaders tend to be older, and this can slow the process of positive changes to mental health culture, something that could end up costing lives. By embracing the clear issue of mental health in the workplace – something demonstrated by our survey participants – you can create a workplace culture that supports and attracts people, and helps them to realise their full potential.
—
If you're looking to improve your own understanding of mental health or the mental health culture in your workplace, SAMS is here to help. Our three mental health first aid courses cover all aspects of mental health training, with different levels for different roles and responsibilities in the workplace. Visit our course page to learn more, or see our schedule to find and book our upcoming courses.