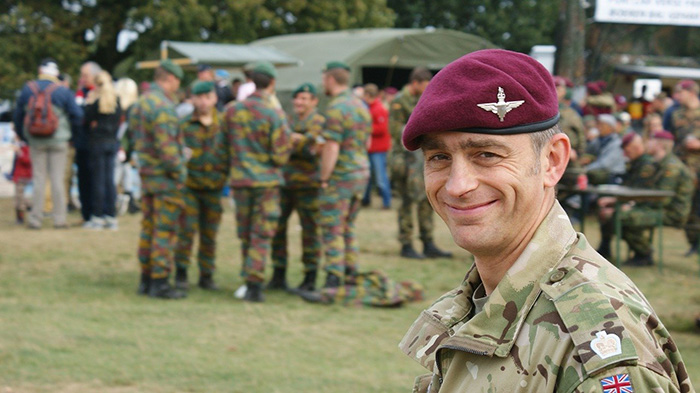 Approved Health & Safety ELCAS courses
The Enhanced Learning Credits Administration Service (ELCAS) provides current and former members of the UK Armed Forces and Ministry of Defence with learning opportunities, helping to develop new skills and support their return to civilian life.
SAMS is an ELCAS approved training provider, and is proud to provide a range of training options for current and former service personnel. Our courses are ideal entry points for a variety of careers, including HGV drivers and safety professionals.
Who is eligible for ELCAS credits (ELC)?
Access to the ELCAS scheme has now been extended for veterans who left the service between 1st April 2011 and 31st March 2016. This means that service personnel who are currently serving or have served in the past 10 years may be eligible for ELCAS funding.
The amount of funding you receive will differ depending on your length of service, with individuals who have served for 8 or more years qualifying for the higher tier of ELCAS funding. You can find out more by visiting the ELCAS website or contacting them directly.
What ELCAS courses does SAMS offer?
SAMS offers the following training courses under the Enhanced Learning Credits scheme:
The National Certificate in Construction Health and Safety is the UK's premier course for construction professionals, particularly those looking to become supervisors or managers. The National Fire Certificate is an ideal starting point for a fire safety career, while the NEBOSH General Certificate is perfect for general health & safety positions.
NEBOSH is the world's largest safety training organisation, and its courses are often a prerequisite for many health & safety related jobs. As well as teaching you industry and job specific safety legislation and practices, NEBOSH courses also teach general safety principles, and how to impart key safety information.
SAMS is a NEBOSH Gold Learning Partner, meaning that we offer the highest available standard of NEBOSH training. Our courses are available either at our training centre in Kent or online via the Zoom video app. We have help thousands of people to pass their NEBOSH exams, and have a raft of 5* reviews, some of which you can find on our NEBOSH pages.
All three NEBOSH courses are highly respected, and an ideal choice for members of the Armed Forces. NEBOSH qualifications are a perfect entry point into the health & safety profession, and can be the basis for a career as a site manager or supervisor, safety inspector or assessor, or even a health & safety trainer.
How to book an ELCAS course with SAMS
To receive your ELCAS funding and book a training course with SAMS, you will need to:
Receive your Claim Authorisation Note (CAN) for the course
Contact us directly to reserve a place on the course
Send us a copy of the Claim Authorisation Note to confirm your eligibility
Complete any remaining course payments.
We're here to guide ELCAS learners through the process, and are happy to help you book a course with SAMS. For any assistance with the booking process or to learn more about our courses, feel free to contact us via email or phone.
Please note however that we cannot help with ELCAS claims or any other questions pertaining to ELCAS eligibility. All such questions should be directed to ELCAS via their website.
Other courses for Service Personnel
While not eligible under the ELCAS scheme, service leavers often choose to invest their grant money or other income into other training courses that may be relevant to their skills or interests. Common courses for service leavers include:
The CITB Health & Safety Awareness and Level 1 Health & Safety in a Construction Environment courses are the two accepted routes to a CSCS Green Card for labourers. These courses are a mandatory part of attaining your Green Card, which is necessary to work on Build UK approved construction sites, and are among our most popular courses.
Driver CPC training helps current or former HGV drivers to stay qualified, and retain or regain their qualifications. Driver CPC is a crucial part of retaining your Driver Certificate of Professional Competence (CPC), and is needed to drive a lorry, bus or coach in most capacities. Depending on your licence and experience, you may have reduced testing requirements, something we explored in our recent article on becoming an HGV driver.
The SSSTS and SMSTS courses are ideal for anyone looking to step into a supervisory or managerial role in the construction industry. Ideal for harnessing the leadership qualities of service personnel, both the SMSTS and SSSTS courses are highly respected qualifications, and prerequisites for a number of jobs in the UK and further afield.
This course is ideal for anyone looking to pass on knowledge in a professional capacity, whether that's becoming a teacher, trainer, lecturer or public speaker. The QA level 3 Award in Education and Training is an Ofqual certified course that introduces you to the fundamentals of teaching, and develops your ability to impart information. This is a great precursor to courses such as the NEBOSH General Certificate, and to ultimately becoming a safety trainer.
—
SAMS offers a wide range of courses to suit a range of interests and career paths, enhancing your CV and job prospects. To view our full range of online, classroom and Zoom courses, visit our Training section. And don't miss our Video e-Learning section – an ideal way to gain new life and safety skills online, all for as little as £10 per course.