Online training for site managers to understand and implement H&S responsibilities and practices
CITB SMSTS remote learning course
(See below for SMSTS Refresher course)
As a result of the coronavirus lockdown, we're now offering both the SMSTS and SSSTS courses as remote learning via the Zoom video conferencing app. Applicants will receive video training from a qualified instructor, cover the same topics as the classroom course and receive the same certificate.
The course will cost £400 + VAT due to lower overheads. Book using the buttons at the bottom of this page, or contact us at info@samsltd.co.uk or by phone (01843) 821406 for more information.
Duration of course: 5 Days
Suggested progression: Requalification every 5 years
About the CITB Site Manager Safety Training Scheme (SMSTS) remote learning course
SMSTS course overview
You'll be able to implement all health, safety, welfare and environmental legislation affecting you and your colleagues daily work.
Understand and implement new guidance and industry best practice to your work site.
State and understand fully your duties and responsibilities with regards to health, safety, welfare and the environment.
If you are considering work where you will be in charge of managing your workforce (such as a site manager) – including planning, monitoring, organising, and administering staff – or are already doing this work, then the SMSTS course is the choice for you.
Covering all the required legislation that affects  safe working in a building, civil engineering or construction industry, the SMSTS course will help you to understand the need for risk assessments within your workplace and construction sites, and the importance of excellent communication between you and your entire workforce
SMSTS candidates will gain a full understanding of the legislation that drives safety regulations in the workplace, and how to implement the controlled safety measures required by law. This will help you to create and sustain an excellent health and safety culture across the board for employees.
The CITB Site Manager Safety Training course is the standard, required training for all managers, and is fully endorsed by Build UK. The course will give you a full understanding of environmental, welfare, and health and safety issues that affect the work you and your team do.
Our expert trainers will teach you the most up-to-date legal responsibilities and requirements, helping you to implement reforms and promote health and safety on a regular basis. This will help you not just to manage health & safety, but to empower your colleagues to manage safety in the most comprehensive and efficient way possible.
SMSTS duration and cost
The course takes a full five days to complete and will be delivered remotely via Zoom, where you will be trained by professional, highly qualified instructors with a wealth of experience. All course materials will be delivered via email link prior to your start date.
The course costs £400 per person + VAT. For group bookings, please contact us to find out more.
Further training
Refresher courses are available for you to attend and to remain qualified in this area. Currently, these need to be done every five years before the expiration of your certificate. If you fail to attend a refresher course, you will have to retake the main course again once your certificate has expired.
The refresher course will help to keep your qualification in date, and you up to date with the latest industry requirements, to manage a safe working environment.
CITB Site Manager Safety Training Scheme Refresher Course
(via Zoom) – £280 + VAT
Click here to be directed to our SMSTS REFRESHER page
This refresher course is for those that have already qualified in the CITB Site Management Safety Training Scheme. This course can currently be taken every five years after your previous qualification/refresher course.
About the SMSTS Refresher course
The course will bring you up to date with the very latest health and safety knowledge with any changes, including legislative, being highlighted since you last qualified, and how these will affect your workplace and colleagues' work.
The course material will naturally progress from your original course, and you'll be introduced to new subjects surrounding this area too.
Once you have completed this course, it will allow you to apply all the latest current environmental, welfare and health and safety legislation within your work. It has a great impact upon your managerial role and the way your colleagues work to get their jobs done safely and efficiently.
You will also be able to implement the latest industry best practice knowledge and guidance to fulfil your duties and responsibilities for everyone's safety, welfare, and for the environment you're working in and around.
SMSTS Refresher duration & cost
The course will take 2 full days to be completed, with training provided to you by experienced, knowledgeable, and highly qualified instructors.
This refresher course will cost £280 + VAT per person. If booking a group onto the course, please contact us for discounts on group bookings.
SMSTS remote learning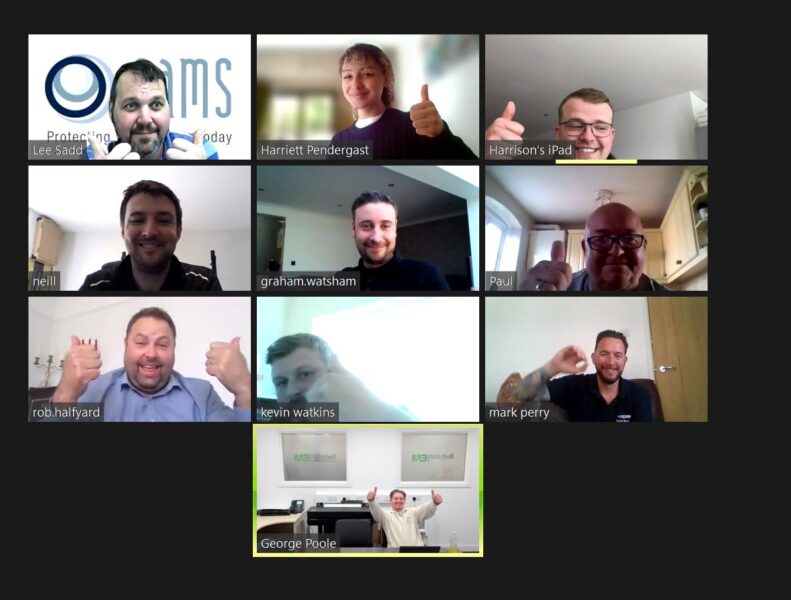 SAMS has been conducting remote learning courses via Zoom for over a year now, with fantastic feedback and results from learners. Remote learning courses allow you to learn along with our trainers from anywhere around the world, receiving classroom quality instruction from the comfort of home. The majority of our learning cohorts have achieved a 100% pass rate using this method.
At SAMS we consider ourselves remote training specialists, and have successfully helped hundreds of people to achieve their SMSTS certification since the start of the pandemic. As we move back to more classroom training, SAMS is committed to providing high quality remote learning as long as it's permitted by course providers – letting you learn in the way that suits you best.
---
Select your preferred SMSTS course date and book below using our secure online payment gateway. No dates for your course? Get in touch via our contact page or phone 01843 821 406.
Not sure this is the right course for you? If you're a Supervisor, check out our SSSTS online course!
We offer 1 day per week over 5 weeks and frequently offer the 5-day block – all dates with spaces available are shown below.
SMSTS (via Zoom) 5-Day Block
Date
Time
Remaining Capacity
August 01, 2022
08:45
9

SMSTS (via Zoom) 1 day a week over 5 weeks (same day each week)
Date
Time
Remaining Capacity
July 12, 2022
08:45
7

July 28, 2022
08:45
12

August 16, 2022
08:45
9

September 07, 2022
08:45
11