Our popular UKATA online asbestos awareness course -- now from just £6.00 pp or £13.50 pp for one licence
Newly updated with in-house video tuition
Download your certificate immediately
Take the course whenever you like
Become qualified in just two hours
Large discounts for bulk licences
Organisations can monitor their staff's progress and access certificates
Compatible with all modern browsers (Edge, Chrome, Firefox)
Requires a desktop or laptop device
Pricing – Asbestos Awareness online course

About The UKATA Asbestos Awareness Online Course

Our new UKATA registered Asbestos Awareness Course offers affordable and relevant training to organisations, sole traders and contractors alike, both in Kent and across the UK.
Our new video-based online Asbestos Awareness training course has been specially developed here at SAMS in conjunction with UKATA, the United Kingdom Asbestos Training Association. The UKATA are an independent body setting standards in asbestos awareness training, so you can rest assured that you're receiving asbestos training that counts.
Our video-based online asbestos awareness course is aimed at making the candidates aware of the dangers associated with exposure to airborne asbestos fibres, occurring through unknowingly coming into contact with materials containing asbestos. The engaging visual presentation helps learners to identify the substance with greater confidence, and harnesses the skills of our training team.
This video format is an upgrade on our previous audio-based course. It is compatible across a wide range of browsers, but you are advised to take it on a 10-inch screen or larger, with 7 inches being the absolute minimum advised by UKATA. The video training is conducted by our Operations and Training Director, Lee Sadd, and gives you all of the benefits of our brilliant classroom courses.
If you work on buildings built or refurbished before the year 2000, asbestos could be present. You will need awareness training so you know how to avoid the risks. The course will take you approximately two hours, and on successfully completing the course you will be automatically issued a UKATA Asbestos Awareness certificate, which you can download immediately.
The email address on your order is where the log-in instructions will be sent. Please ensure it is correct to prevent any delays.
This course will no longer run on Internet Explorer! Please upgrade your browser to Edge or use Google Chrome, Firefox, or another current browser.

UKATA Asbestos Awareness Online Course Modules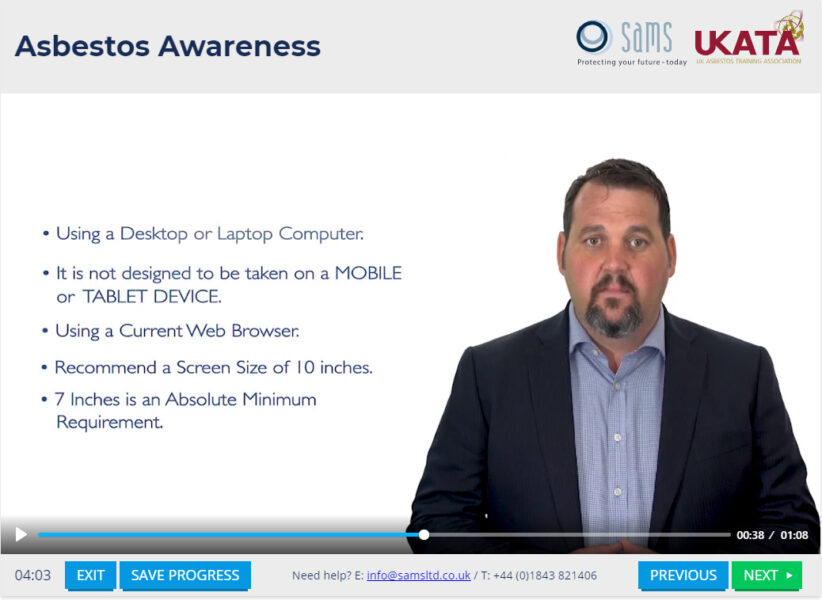 The online UKATA Asbestos Awareness Course is segmented into different modules, and although the format of the course may vary for different members, the module topics are categorised as below:
Types and properties of asbestos
Uses of asbestos and likely locations of ACMs in buildings and plant
The risks of asbestos, entry routes in the body and the health effects
Asbestos legislation
Emergency procedures

Users will navigate between the different stages of the course using the buttons provided. Note that each video must be watched in full before you are allowed to continue. You are not able to fast forward, but can watch the video again if you were unclear on something.
CITB NI Grants
This course has been registered by CITB NI for grant assistance to registered in scope employers in Northern Ireland. For more information, please visit the CITB NI website.
The Benefits of Asbestos Awareness e-Learning
---
Online learning (often referred to as e–learning) is increasingly used as a method of providing asbestos awareness training. HSE recognises the use of e-learning as a viable delivery method, among others, for asbestos awareness training, provided it satisfies the requirements of Regulation 10 of the Control of Asbestos Regulations 2012 and the supporting Approved Code of Practice L143 'Managing and working with asbestos'.

– Health & Safety Executive
---

e-Learning is the more cost-effective and convenient alternative to classroom training. This video-based online asbestos awareness course is intended to make students aware of the dangers of asbestos arising from unknowingly coming into contact with airborne asbestos fibres.
e-Learning is recognised by HSE as a good learning tool as long as it meets the requirements of Regulation 10 of the Control of Asbestos Regulations 2012 and Approved Code of Practice L143 'Managing and working with asbestos'. Our new UKATA Asbestos Awareness course has been developed to make learning about asbestos an enjoyable and engaging process.
Please note that this online asbestos awareness course does not train students to work with any Asbestos Containing Materials (ACMs), which can only be trained in a classroom environment. The course is about making the candidates aware of the dangers associated with unknowingly coming into contact with asbestos.
Please be aware that HSE recommend that asbestos training needs to be taken on an annual basis for individuals are most probably going to come into contact with asbestos through their job. This course is fully audited and registered by the United Kingdom Asbestos Training Association, which is the leading organisation of its nature.
How does the UKATA Asbestos Awareness Online Course work?
Video training
SAMS have invested in brand-new video training for UKATA Asbestos Awareness, conducted by our Operations & Training Director Lee Sadd. By taking this course, you'll receive a classroom quality learning experience that goes above and beyond what is offered by most providers.
Monitor Staff Progress
SAMS Ltd has an advantage over other companies with the organisational section of our LMS. Companies can monitor their staff progress and access all certification in this section, as well as being able to see which licenses have been redeemed by their staff, and who still must take the course.
Your Certificate
This certificate is valid for a year from the date of issue. You will only need to buy a licence for the candidate who's taking the course; multiple licences will need to be purchased for a group of candidates.
Unlike the certificates, the licences are valid without end, so can be used at any time.  Your certificate is available to print/download once you have completed the course, it is not emailed to you.

Booking Your Courses

Step One: Select how many Asbestos Awareness courses you would like, and pay for them using the basket function in the top right of your screen (using any discount codes you might have). You will then be sent your licence codes via an email – please check your junk mail too!
Step Two: Click on the link within the email which will take you to a login screen – you will need to REGISTER/SIGN UP here. If you have purchased multiple licences each learner must create their own account (and keep hold of those registration details, as this will be what you use to log in with to retrieve your certificates). You then enter the course management area, where you can add your licence key in the box provided and click add to assign the course to your account.

Suitable Environment
We recommend that this Asbestos Awareness course is undertaken in a quiet learning environment, free from distraction and interruption.

Need help?
Take a look at our support page or email us on info@samsltd.co.uk. We'll get back to you as soon as is reasonably possible.

Payment
You can pay for the course using Worldpay, PayPal or any credit or debit card. Payment is secure via Worldpay and PayPal – if you don't have a PayPal account, you will be given the option to pay with a credit or debit card. There's no time limit on when you need to complete the course after purchase – and there's no need to do the course in a single session.
The course saves your progress, so you don't need to re-do any sections if you prefer to finish the course in more than one go. This is why many people choose to complete their training through our online asbestos awareness course options.
If you require a VAT receipt in addition to your PayPal or Worldpay receipt, please email info@samsltd.co.uk with the order number and transaction date.
Can I do the online training on a phone or handheld device or tablet?
Tablets, mobile phones and other portable devices should not be used for this course. It is advised that candidates use a desktop or laptop computer with a printer available, in order to print off the certificate at the end of the course. It is important that the device is fully charged, and that a good Wi-Fi connection is available.
Please note: it is the recommendation of SAMS Ltd that this course be completed within a suitable environment which supports the learning experience. In meeting these recommendations, candidates are advised to complete the course in an area where it is unlikely they will be disturbed to ensure full concentration throughout the course.
Classroom training
We also offer asbestos awareness classroom courses at our training centre in Manston, Kent. This course satisfies the requirements for raising awareness of Asbestos Containing Materials (ACMs) in the workplace.  Visit our asbestos awareness training page to learn more, or get in touch with us today.
Terms and conditions
Please note that by registering for this course, you are agreeing to abide by our terms and conditions.
Please see the videos on our support page for step by step instructions on how to register your individual or multiple licence keys on our UKATA Asbestos Awareness online course.