Health & safety changed quite a lot for everyone in 2020. As well as our personal safety, the wave of lockdown restrictions also meant that businesses like ours couldn't function the same as before. With falling demand for our classroom courses (before they were halted altogether), we had to think on our feet to keep SAMS afloat.
The thing that's helped us above all else is the boom in remote learning. As people have become more familiar with platforms like Zoom, the fears around doing a course remotely have eased, and we've continued to benefit. To put numbers to this feedback, we asked 145 of our Zoom learners what they think of the remote learning format, and whether it should stay. In a word, the result was an overwhelming 'yes'!
How our data was collected
We extended an invite to our survey to everyone who had finished our remote learning courses, including the NEBOSH General Certificate, the CITB SSSTS, SMSTS and more. 
There was no profiling involved, so the survey is completely irregardless of things like age and gender. The only common denominator was that these were people who had booked and taken their courses over Zoom with us. We tried to frame the questions in a fair way and not to make them too leading, so that we could get the best data possible about our training.
Online training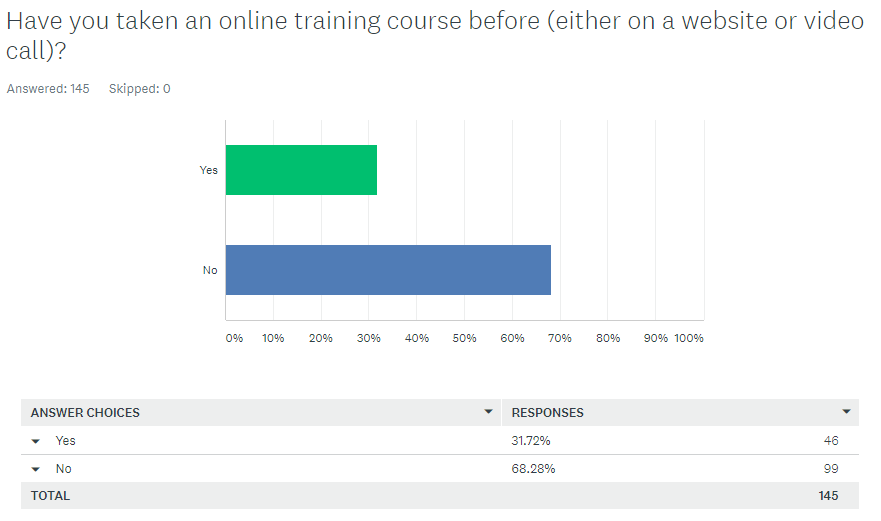 The first question we asked was a simple one: have you taken an online course before? In this context, 'online training course' refers to either a website-based course (such as our UKATA Asbestos Awareness online course) or a remote learning course. This would give us a sense of how familiar people are with studying online, and how this might affect the results.
The responses show that while a sizeable minority had taken some form of online training before, a large majority had not. We consider this a fairly representative sample of our learners, and indicates that this was many people's first experience of training online.
Training and COVID-19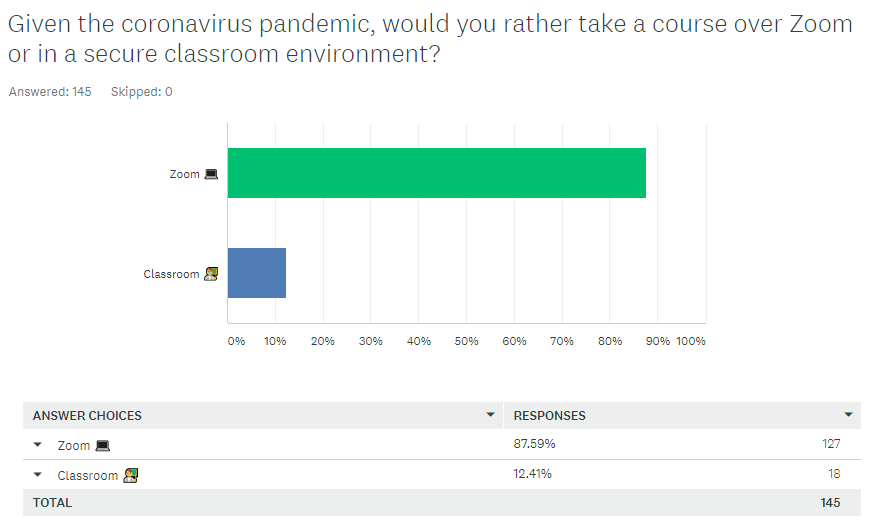 Next we asked our learners which method of training they would prefer in light of the coronavirus pandemic, and the risk this can pose to personal safety. We tried to make this as balanced as possible by reemphasising the secure nature of the classroom environment in the question, so they were not weighted towards the course they just took.
The result was an overwhelming preference for Zoom training over classroom training as long as the pandemic conditions continue. This is a heartening show of support for the remote training model, and will likely be relevant for some months to come, as the UK-wide lockdown is gradually eased.
Comfort using Zoom
The next question was a more interesting one: would you feel more comfortable asking questions in a classroom or over Zoom? We theorised that people may feel more comfortable asking questions online, as they are in a more familiar and comfortable environment, and don't have people around them to make them nervous.
Again, this was a really positive result for Zoom training! While a large majority of people felt that asking questions on Zoom was no different to asking them in a classroom, almost a quarter of our respondents said that they would feel more comfortable asking them on Zoom. Only 9 people (6%) said they would be more comfortable in a classroom environment.
Parity of qualifications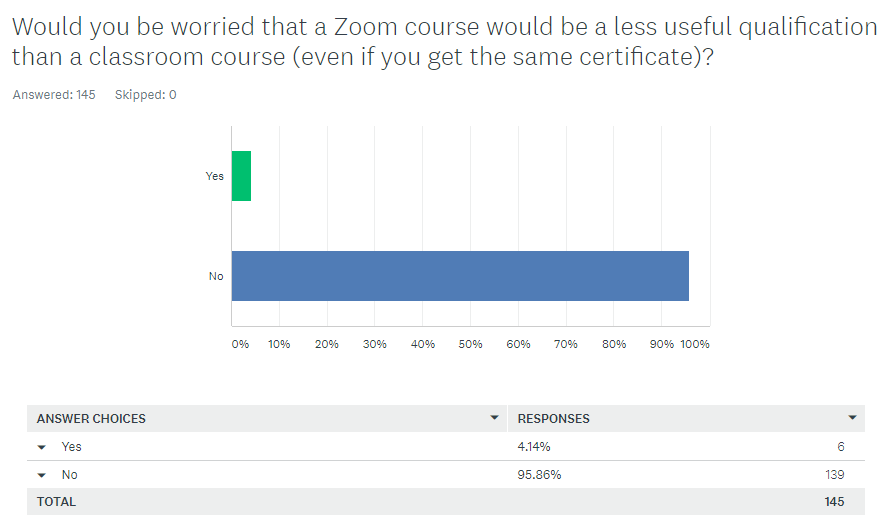 Our next question was whether people would be worried that their Zoom training wouldn't be up to the standards of typical classroom training. We theorised that because the courses had to be adapted for remote learning, people may feel they were 'short-changed' in some way, had taken an inferior version of the course, or worry that they had less opportunity to ask questions and get feedback.
Our results overwhelmingly indicate that this was not the case! In the context of having just taken a remote learning course with SAMS, almost 96% of people were convinced that the quality of the training gave them an equivalent learning experience to the classroom variant, and assured them that their certificate would be as valid as any other.
Future for remote learning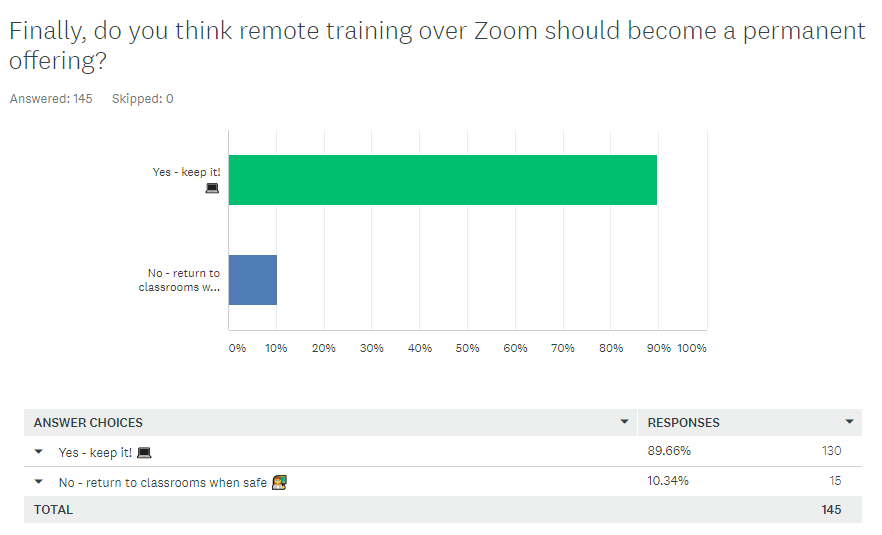 Finally, we asked the most obvious question: do you want remote learning to stay? This is a pertinent question, as while we at SAMS have seen the benefits of retaining remote learning alongside our classroom courses, many course providers have still not come to a decision. Our hope was that the data would back up what we knew: that the demand was there, and was strong enough that it will persist beyond the coronavirus pandemic.
Once again, this was an overwhelming vote of confidence for our remote learning. While this question was slightly misleading – our hope is to return to classrooms as well as offering remote learning, if possible – it nonetheless shows an appetite for Zoom training in the long-term.
General feedback
Along with the answers to the survey, we also received 59 comments in an optional section at the bottom. 47 responses can be categorised as entirely positive about the Zoom experience, with 8 expressing a preference or need for classroom training. The other 4 comments could be categorised as miscellaneous (questions about other offerings etc). 
Among the mixed responses, most talked about maintaining a blend between classroom and Zoom training, or their preference for classroom training without disparaging remote learning. Here is a selection of quotes from both sides:
People who preferred Zoom
"Zoom courses mean less travel, less pollution and less traffic. All are good things."
"It seems to be less pressure on zoom"
"I have no issue with undertaking a training course over zoom, especially if it will save on travel time and overhead costs."
"Where i am based on the Wirral courses are limited to my area and have been further a field and noone wants to travel. The zoom takes that worry out of it everyone can attend a course based in our own office so no travel time or expense. Also feel alot of are older team would feel a lot more inclined to attend a zoom course than a classroom bases."
"I have never used zoom but after the two days experience it felt I was in better hands and felt comfortable asking and answering questions please keep zoom for ever very happy!"
"It was no different to being in a classroom as all the content required was delivered and you were encouraged to participate."
"The training received via Zoom was great. It was also quite refreshing having delegates from all over the country taking part."
"Really good, better for the environment, better for costs in general. Felt a lot more confident over zoom and felt no impact on the learning experience."
"worked well as it saved costs to fly to the uk"
"I am currently undertaking training through SAMS of which i was initially sceptical. I have found the training very effective and have received the level of knowledge and assurance required to build confidence that i am meeting my required standards of learning. I would recommend this method of training if delivered to the level of quality that SAMS has consistently maintained."
"If zoom wasn't offered I wouldn't of done the course until a later date"
"I think giving the circumstances with the virus and the variety of people on the course Lee done well to keep every ones attention and make it very interactive. Make such a difference with the pictures and group exercise break out rooms. I personally dont have a lot of experience as yet in the construction side of things but i didnt feel at any time that i was struggling or unsure. All information was very well presented explained and simplified if needed. I actually enjoyed my week. I would agree Zoom courses are a good idea especially as we are so far away we wouldn't have been able to attend otherwise. Thanks Again."
"As I am not great on a computing found the course quite daunting however Lee was fabulous and really took the time to help me. Thanks Lee"
People who were mixed/negative on Zoom
"Zoom is not suitable for all training but it is a very useful tool and enables some training to be delivered earlier than would be possible compared to getting everyone to a venue on a particularly day and time."

"I'd offer both zoom and class room courses if it was my business. You get a better geographical spread of delegates on zoom. It might not work so well for longer duration courses but it was fine for sssts."

"In life post covid I think a blend of classroom and distance learning will be the way forward. It gives people options and flexibility"

"As 1st time done zoom I thought it was good but that might be down to Lee as he was very helpful but still don't think you can beat face to face but did enjoy the 2 days"

"I feel that in a class room you would have more interaction with both teacher and students."

"The training was fantastic, can't fault it at all but I personally prefer the classroom environment. Being at home made it inconvenient on more than one level."

"Some bullet points for homework would be helpful; it was sometimes a bit confusing as to what was required."

"Its hard to understand people on the course. As you could have people's from south and north on the same course its hard to understand accents"
Conclusion
Looking at the data we've collected, and judging from our personal experiences over the past year, it's hard to conclude anything other than how successful remote learning has been. While there is clearly still a case for continuing to provide classroom training, remote learning is now a viable alternative that opens courses up to many people who would otherwise have been unable to attend, either because of travel or personal circumstances.
Our hope is that course providers see this demand and continue to support remote learning options for courses, as well as refining them in the months and years to come. We're delighted with the reception to our remote learning so far, and continue to work on offering the best possible training experience for all our learners, no matter where you learn from.
If you're interested in booking a remote learning course with SAMS, visit our Courses page and click on the Classroom/Virtual Training button to see all of our Zoom offerings. We look forward to seeing you on a screen or in a classroom sometime soon!