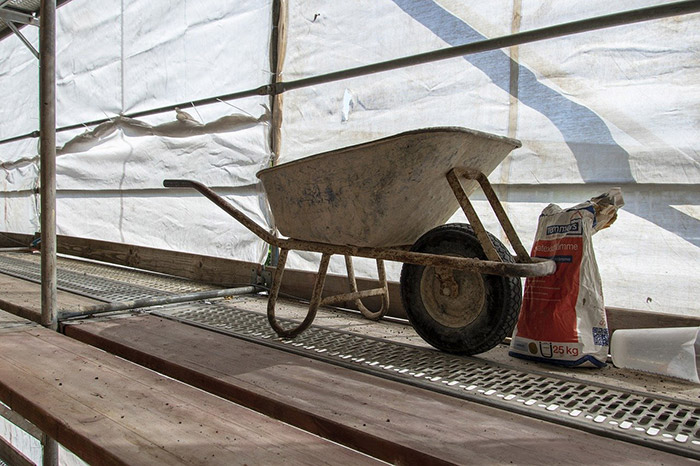 We don't often pick out news stories to feature on the blog, but this one felt particularly resonant. A young girl suffered life-changing injuries when a piece of timber fell almost 10 metres from a scaffold, striking the child in her pram. The timber was being lifted using a gin wheel, but had been improperly secured, and slipped out of the rope that was holding it.
There were a multitude of faults in this case, from the lack of an exclusion zone to poor knot-tying technique. But the fundamental problem seems to have been that the gin wheel – a regular sight on many scaffolds – was not treated with the care that it should have been. 
While the use of gin wheels and similar pulley systems is covered in general site safety courses, the protocols for proper maintenance and use can easily fall by the wayside. Yet this common implement of so many worksites has the potential to cause serious harm if used improperly – and is something we should all sharpen up on.
The problem with gin wheels
Most scaffolds need a way to raise materials to working height, and gin wheels are by far the most popular. The combination of being simple to affix and to use – simply attach the object and pull it upwards – makes them a straightforward and effective choice for lifting tubes and timber. Yet this simplicity can mask the inherent dangers in improper gin wheel usage, both to the operators and the public.
The installation of gin wheels needs to be planned, coordinated and undertaken by a competent person, and the wheels and ropes need to be periodically inspected. Additionally, the use of the wheels needs to be done by trained individuals, and the process should ideally be overseen by a site supervisor. Yet specific training for gin wheel use is exceedingly rare, and in our experience, many of these steps are outright ignored.
There are so many ways in which the use of a gin lift can go wrong. A few examples include:
An improperly lashed item

Improper use of the lift

A poorly fitted or maintained lift

Damaged rope or connectors

Lack or poor implementation of exclusion zones

Items which aren't suitable to be lifted, such as buckets or pails. 
Just from this, it should be evident that the gin wheel is a piece of machinery that should be treated with care, the same as any other. Yet it's often treated as a static tool with no moving parts, and no capacity to do anything unexpected. This is patently the wrong approach to take, and it shouldn't take tragic accidents to force a rethink in how we approach gin wheel safety.
How to use gin wheels safely
Ideally, anyone working with gin wheels (by extension, most people working on scaffolding) should have specific gin wheel safety training. However, this isn't necessarily a practical solution. Other courses do cover some of the same ground, with the NEBOSH National General Certificate covering hoists and lifts, and a variety of other certificates covering lifts and pulleys.
On a fundamental level, every use of gin wheels should be planned out, with a proper risk assessment to determine how they will be used and who will be using them. The devices should be inspected before, during and after use, and their use should be overseen by qualified professionals. While not comprehensive, a brief checklist might include:
Ensuring proper hitch knot technique

Setting up an exclusion zone

Never standing directly under the lift

Only lifting stable objects which won't spill or tip

Raising or removing the rope after use so it can't be abused
Perhaps the best way to approach gin wheel safety is to remind workers of their responsibilities when it comes to gin wheels, and fill in a few blanks for those who have forgotten. A responsible approach to safety is best communicated from above, and so implementing a formal inspection and planning process will go a long way to setting a standard for their safe operation.
It's also helpful to give regular toolbox talks on the subject, using a basic checklist for their safe operation. By drilling home the basic details, you can help to instil a safe approach through repetition, and coordinate it across the site. It doesn't hurt to use a few practical examples in these talks either, including the sorts of horror stories that inspired this article.
—
Gin wheels are just one aspect of working at height, but they're one that's frequently ignored. While many people focus on keeping themselves safe at height, it can be easier to forget about the people around you, be they the person sending up the materials or bystanders on the ground below. 
Gin wheel training is one element of a conscientious approach to site safety, but taking a minute to think about the impact of your work on the people around you can flag up all sorts of similar issues. By being proactive and asking questions about whether your processes are keeping people safe, you'll make a difference that could ultimately save lives.
Visit our Classroom training page for courses addressing gin wheel safety, including the NEBOSH General Certificate course and Site Manager Safety Training Scheme (SMSTS).