Welcome to SAMS NEWS
This page will include news alerts within the health and safety industry and within our health & safety consultancy SAMS. It will give us the opportunity to deliver health and safety advice/tips and awareness. Be sure to check each week to stay up to date and informed.
If you have any questions or want us to document any recent health and safety news, tips or advice – please let us know. You can do this by giving us a call/email or using our new live chatbox. If you want more in-depth information on any of our upcoming topics, why not check out our informative blogs.
Congratulations to our SMSTS group that all passed with flying colours! This group had been working with our 5 STAR trainer Lee once a week for 5 whole weeks. The group worked incredibly well and collectively smashed their exam. 6 of the students even managed to get 100% on their partly open book exam.
---
24/05/2022
ISO Renewed – 9001 quality management system
SAMS achieved an all time high 14001 on our environmental management system. This was externally audited with all evidence provided by us. 9001 shows our clients that we have a high quality when supporting our policies, procedures, management and give the correct support to our clients and staff.
14001 shows that we take our environmental responsibilities seriously and endeavour through quality management to reduce our impact on the environment. We do this through active management, systems review, staff engagement and continually seeking new opportunities to reduce our carbon footprint. For example: introducing electric cars, electricity and water reduction, and introducing remote training.
---
Only 5 days left to claim our NEBOSH in Construction discount 'NG10'
The NEBOSH Construction Certificate equips candidates with the knowledge and understanding to demonstrate excellent health and safety within the construction industry.
There is only 5 more days to claim our 10% discount offer using the code NG10
NEBOSH GOLD STANDARD
Remote learning over ZOOM
5 STAR trainers
Work from your own preferred leaning environment
If you have any questions, try using our LIVE Chatbox
Click here to view our NEBOSH in Construction page
---
17/05/2022
We apologise for the inconvenience
UKATA was having problems yesterday which had delayed our UKATA Asbestos Awareness page. If you were having problems yesterday, our page is now working. Click below to see our UKATA Asbestos Awareness page.
---
11/05/2022
Asbestos removal company fined for failing to protect workers from risk
An asbestos management company has been fined and two of its employees have been jailed for failing to protect workers from asbestos exposure during a major refurbishment project in Plymouth.
---
06/05/2022
Our magazine feature is now LIVE see below
Our magazine feature is now LIVE on Construction update on pages 10 – 11. See our article on how we're changing lives through health and safety. We have also included a temporary discount code for our NEBOSH Construction course 'NG10'. Click the link below!
Construction Update magazine feature
---
05/05/2022
Congratulations to our SMSTS Group 04/05/2022
Congratulations to our SMSTS group that all passed with flying colours! This group had been working with our 5 STAR trainer Lee once a week for 5 whole weeks. The group worked incredibly well and collectively smashed their exam. 6 of the students even managed to get 100% on their partly open book exam.
Click here to view our SMSTS course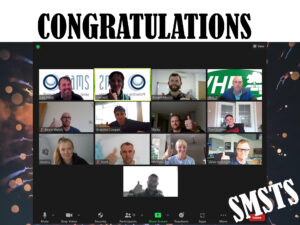 ---
02/05/2022
Suspended sentence for unsafe evacuation work
A principal contractor has been handed a suspended jail term after he was found to have supervised unsafe excavation work. By confirming the unsafe evacuation work under his supervision, he had risked the safety of all of his workers. The property had work undergoing, but had to stop after multiple fall risks and a potential collapse were identified. After an inspection from the HSE, they found that the supervisor (Mustapha Matib) had failed to prepare a construction phase plan, with risk assessments and method statements detailing how the work should be safely carried out. Mr. Matib also failed to have a site manager with suitable skills, knowledge and experience to be able to plan, manage and monitor the undergoing work. As a result, Mr. Matib  has now been sentenced to sixteen weeks imprisonment and now has been ordered to carry 200 hours unpaid work and pay costs of £5,673.
---
28/04/2022
World health & safety at work day
Today is world day for health and safety at work 28/04/2022
According to the International Labour Organization, more than 6,300 people die as a result of occupational accidents or work-related diseases each day, resulting in more than 2.3 million deaths per year.
Today is to recognise the importance of securing a safe and healthy working environment
If you have any questions on how to secure your work place and how to support your employee's wellbeing, try talking to our staff by using our LIVE Chatbox service
---
Happy Earth Day!
Happy Earth Day!
We celebrate Earth Day to demonstrate our support for the environment.
Here at SAMS, we have implemented a variety of green initiatives to reduce our impact on the environment
We're continuously upgrading and investing in more efficient technologies, recently investing in yet another electric car for our long travels and charging it using solar energy
We bulk buy on an annual basis to reduce needless emissions and none of our offices use gas, only electric.
Additionally, we primarily run our courses over ZOOM, reducing both ours and our students carbon footprint
We're always looking to implement more green initiatives, we're in this together!
---
19/04/2022
NEW SSSTS courses added and 1 SSSTS REFRESHER
You asked, we listened! Due to high demand, we have added on extra SSSTS courses, as well as 1 new SSSTS REFRESHER course.
You can book our 2-day CITB SSSTS (Safety site supervisor training scheme) for only £190 + VAT. It is perfect for anyone who wants to become a site safety supervisor or is a site supervisor that wants to gain a extra respected qualification. The course will focus on health, safety welfare and environmental issues within the building, construction and engineering industries. The course will also focus on legal responsibilities and how to meet these by implementing the correct health and safety measures.
Or if your SSSTS qualification is soon to expire, you can also click here and book our SSSTS REFRESHER course for 26th May 2022. This is a 1 day course is only £120+VAT. If you have any questions please use our live chat or DM us on our socials for a potential discount code!
Click here to view our new courses
---
Mental health first aid course – Coming soon on e – learning!
New course coming soon! This new Mental Health First aid e-learning course introduces the subject and outlines the benefits of Mental Health First Aid and workplace wellness schemes. It will cover the effects of stress on individuals and teams, and discusses how stress and mental health are linked also looking over the roles of employers, managers and employees in ensuring that a Mental Health First Aid programme is successful.
The course will be only £25 + vat! Click here to view our current mental health courses
---
Congratulations Alex Hawk for getting onto the IFSM
After an immense amount of hard work, Alex – our health & safety advisor – has successfully completed his mission of getting his name on the Fire Risk Register. Alex is now recognised as a 'competent fire professional', strengthening his ability of carrying out efficient fire risk assessments.
Alex (and by association SAMS) is now listed on the Tiered Fire Risk Assessors Register (TFRAR). If you are looking for a professional to carry out a fire risk assessment, simply find your local TFRAR. Click here to read About the five main components of a Fire Risk Assessment!
Well Done Alex!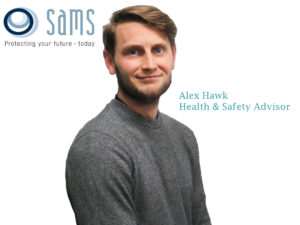 ---
09/03/2022
Houses of Parliament staff have been exposed to Asbestos
Up to 9 members of parliamentary staff and multiple contractors may have been exposed to the deadly material asbestos. The renovation work that was taking place at the Houses of Parliament has now been forced to stop, as it is known that asbestos is most harmful when disturbed.
Asbestos can be found in any building built before the year 2000, as it was once seen as an ideal material for various kinds of insulation. It wasn't until we found out it caused multiple cancers that it was then deemed illegal to use in any new building. However, the damage still continues more than 20 years later, as over 5000 construction workers still die from asbestos exposure every year. Click here to read more about the Houses of Parliament's exposure to asbestos.
---
16/02/2022
PPE Regulations are changing…
April 6th 2022 will be when the Personal Protective Equipment at Work (Amendment) Regulations 2022 (PPER 2022) will come into force, amending the 1992 Regulations (PPER 1992) according to the HSE. Click here to find out more, and learn how this may affect you.
---
Zero Discrimination day
01/03/2022
1st of March is National Zero Discrimination Day. It's the day we celebrate everyone's right to live a full and productive life equally. By supporting this day and spreading awareness, you will be adding to a global movement for change, and a step towards zero discrimination. Click here to read more about Zero Discrimination day!
---