NEBOSH Fire Safety and Risk Management Classroom Course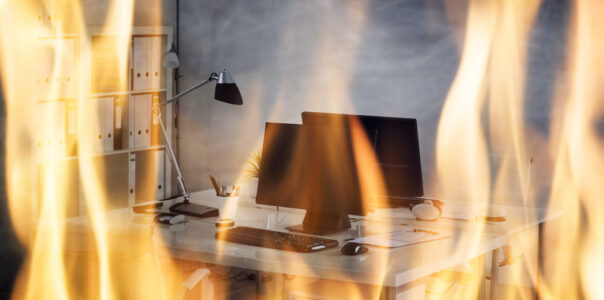 The NEBOSH National Fire Certificate classroom course is the fire industry's premier classroom qualification.
Duration:
10 days + exams for the full course
5 days for the conversion course
NEBOSH Fire Safety and Risk Management Schedule Kent

Take a look at our training schedule for all future NEBOSH Fire Safety and Risk Management Course dates in Kent. 
We also offer NEBOSH General and NEBOSH Construction classroom courses. All three will start concurrently in January, March, June and September unless otherwise noted.
About the Course
The NEBOSH National Fire Safety and Risk Management Kent classroom course is the fire industry's premier classroom qualification, boasting more than 6,000 qualified individuals in the UK.
Applicants to this course will receive a comprehensive grounding in all aspects of health & safety as it relates to fire safety, including the identification and management of risks as well as emergency protocols.
The NEBOSH National Fire Safety and Risk Management Kent classroom course is designed for:
Union representatives, managers and supervisors
People with delegated fire responsibilities at work
Managers of facilities where fire safety is a prominent issue
Fire risk assessors in workplaces deemed to be low risk
People wishing to start a career in fire safety
People who learn better in a classroom environment
Course Content

NEBOSH National Fire Safety and Risk Management classroom course applicants will study UK regulations concerning fire safety and fire risk management; how to identify and control fire risks in the workplace; and how to apply this information in a practical and effective manner.
Each of these topics is covered in a separate unit:
Unit NGC1 – Management of Health and Safety
Unit FC1 – Fire safety and Risk Management
Unit FC2 – Fire Safety Practical Application
Assessment
Once applicants have completed the three units of study, they are required to complete assessments in the form of two written examinations – for Unit NGC1 and Unit FC1 – and a work-based practical examination for Unit FC2. All three units must be completed and passed within five years of each other to receive the full qualification.
Benefits of NEBOSH training with SAMS
Our classroom NEBOSH training promotes a safer work environment, helping to protect employees from injuries, loss of life and everything in between.
NEBOSH trained employees have a comprehensive knowledge and understanding of fire safety, including how to implement strategies to minimise risks. These employees will also understand how to help their employer avoid prosecution, absence costs, litigation and loss of reputation throughout their operations.
Applicants who pass the NEBOSH National Fire Safety and Risk Management Certificate Kent classroom course will have a good base set of practical skills that will bring valued experience to any workplace. Here at SAMS, our industry experienced tutors can provide you with an elevated level of training, so you can put all you have learnt straight into practice when you return to your workplace.
Our assessors will tailor the course to your business needs, finding out what it is exactly you require from the course to implement within your company. Our NEBOSH course is based at our fully equipped Kent training centre, with refreshments and lunch provided.
How much does the NEBOSH Fire course cost?
Our NEBOSH Fire classroom training course costs £995+ VAT for the full course.
The NEBOSH Fire conversion course costs £660+ VAT.
Other Methods of Learning
e-Learning
We offer a brilliant e-learning NEBOSH National Fire Certificate course for learners that may not have the time, or means of travel, to attend the course in our Kent-based training centre. Support for the e-learning course is available through ACT Associates Ltd. Our e-learning course is available here for your convenience.
In-house
We also offer in-house training at a venue of our clients choosing, in addition to our own bespoke training centre. Contact us today to learn more about hosting a NEBOSH fire safety course.